Well that went quickly! My last post was in January. So, it's about time to put fingers to keys and give a bit of an update, and it makes sense to do so as a wrap on the year, with a glug of Christmas spirit too. So here it is, my 2022 report:
Health
In short; holding up. I am on ADT (androgen deprivation therapy) which removes all the testosterone from my body, until August/September 2023. The idea is that the ADT denies the cancer the "food" it needs to grow i.e testosterone. The cancer is sufficiently serious for two years of ADT. The side effects are not great: hot flushes, weight gain, no interest in – or capability for – sex, potential loss of bone density and muscle mass, possible cognitive impairment and mood swings/depression. You're right, it's a real laugh! The best things I can do are resistance training to the mitigate bone and muscle side effects (thank you Jim, the trainer), eat well (thank you Tiffany), and try to keep fit and stay positive. After I come off the drugs I'll take tests regularly and hope the cancer is gone. The chances are about 50:50.
I also have lymphedema. This is a side effect of the surgery and radiation which have either removed or radiated lymph nodes and the lymphatic system around my pelvis. Lymphedema causes swelling in my legs (especially left) and abdomen, as the lymphatic fluid, which has to flow against gravity in the body to get to be recycled, backs up. To help the fluid to flow I have to wear compression garments: left leg stocking and underwear. Aside from the physical discomfort, it's been very tough mentality. I've gone from being a very fit 5,000 mile cyclist in 2020 to feeling like I've hit old age like smashing into a wall prematurely. That's been a thing to get my head around.
Green Card
Well, what should have taken a couple of years will end up taking four! COVID has caused a massive backlog in the application process. The lawyers who are acting for me tell me I'm through the trickiest part of the process. Hmm, well perhaps technically it is, but I'm in the phase now where I can't leave the US, and that period, which normally lasts three to six months is typically taking six to twelve months because of the backlog. On top of the two year wait to get out of the US to get the visa stamp in my passport in 2020/21, here's another long wait. That wasn't the plan at all. Still, I'm so invested and so far into the process, I'm not quitting now! So, until I get permission to leave the country, non-US friends, you'll just have to come visit me!
T&C
Tiffany and I became an item in early 2020. We bought a house together in late 2021. We got engaged in late 2022. I'd call that a positive trajectory.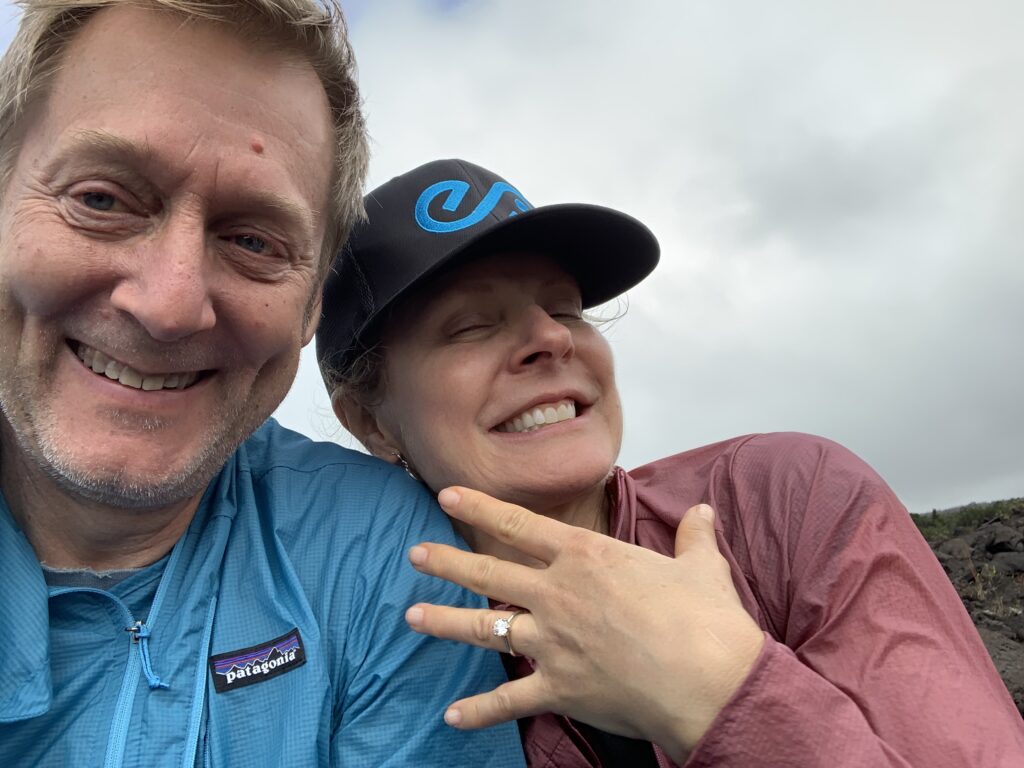 A life-threatening cancer diagnosis and global pandemic lockdown could be tricky for thirty year relationship but we were just getting going when it all kicked off. Completely coincidentally, the first week of lockdown was the first week we decided to try to spend the whole week together at Tiffany's condo. Back then people were thinking in weeks, and we made a quick decision to just carry on, even though I had to cycle everyday to my apartment to "work from home" because the company we both worked for didn't know we were an item and with her dogs around we would have been rumbled pretty quickly.
Tiffany claims that having done lockdown (and the cancer), we've probably done as much relationship as many couples with many more years to their name, so we must be good. It's like we've done dog years.
House
Our house, is really feeling like a home now. We've done a fair amount to it, particularly on the aesthetic front. We've also sorted the drainage, the HVAC and some precarious trees but pictures will not be as inviting as these: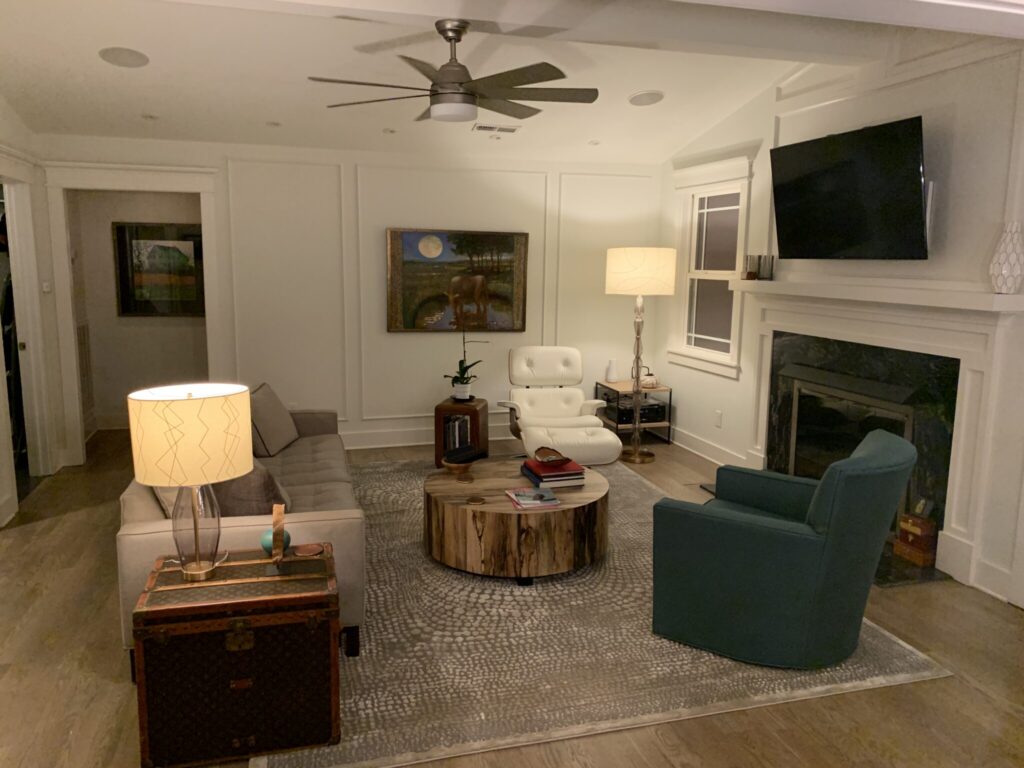 Guests, and boys in particular, like it. It has all the things, including a lovely guest room and guest bathroom. So, please don't hesitate to invite yourselves to stay, especially as it's impossible, my non-US friends, for me to visit you.
Boys in US
Charlie in April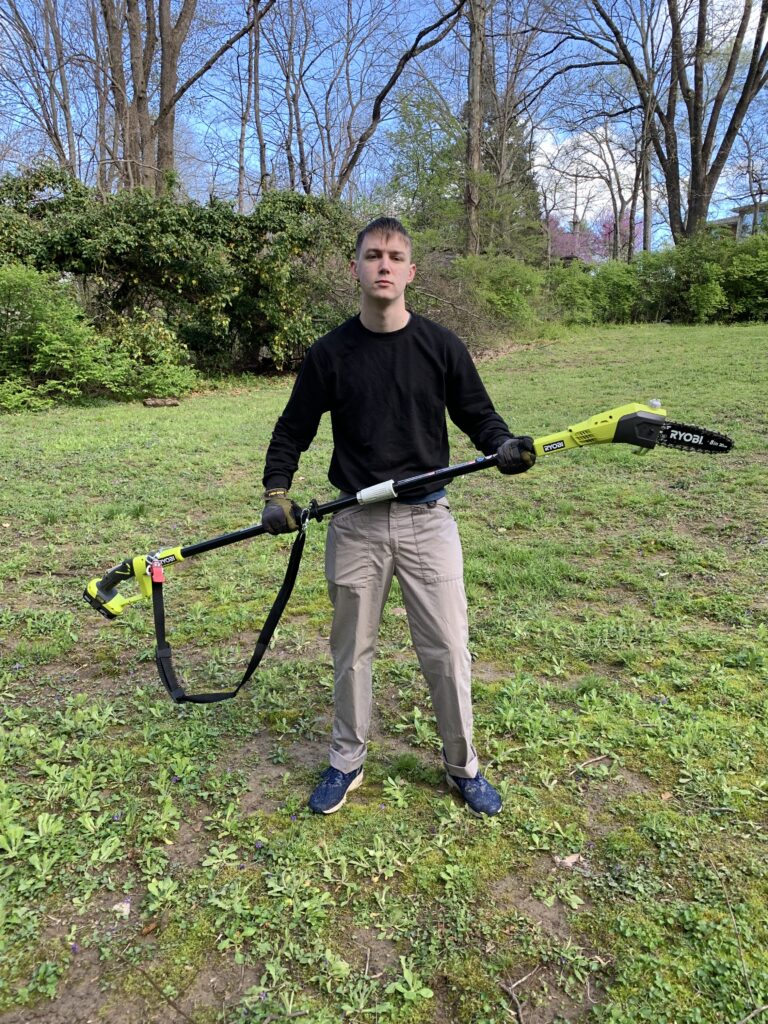 We hung in Nashville, eating too much, seeing the Predators, going curling and playing pool. We went on a road trip, taking in Chattanooga, Knoxville (thank you Ben and Michelle), Atlanta (even after six or seven trips I still can't get my head around it), Savannah (very colonial and pretty), Hilton Head (coastal homes for the rich), Charleston (another attractive colonial city where we had some excellent seafood and met Ted, a colleague from New York), and back to Nashville via Columbia (state capital of South Carolina) and Tryon (to pop in on Tiffany's mum, who had had a surgery a few weeks prior). All in all we had an absolute blast.
George in August
We signed up for a cycling camp in the Georgia mountains, with ex-pro Todd Nordmeyer, of Endeavor Performance. The big day was 70 miles and 10,000ft of climbing (Strava, above, seems a bit wonky). Pretty epic. Inspite of the drugs, I was pretty pleased with my performance, and super impressed with George, who kept up with the fastest. We stayed in this fantastic cabin in Smithgall Woods State Park. Tiffany cooked. That was tip-top too.
After three days in the saddle, George and I chilled in a fantastic Airbnb near Blue Ridge, then decamped to Chattanooga for a couple of days. We rode – more gently – wandered, ate and drank. It was great.
Back in Nashville, we had some more fun, including an aura reading! All in all, we had an absolute blast.
Ollie in October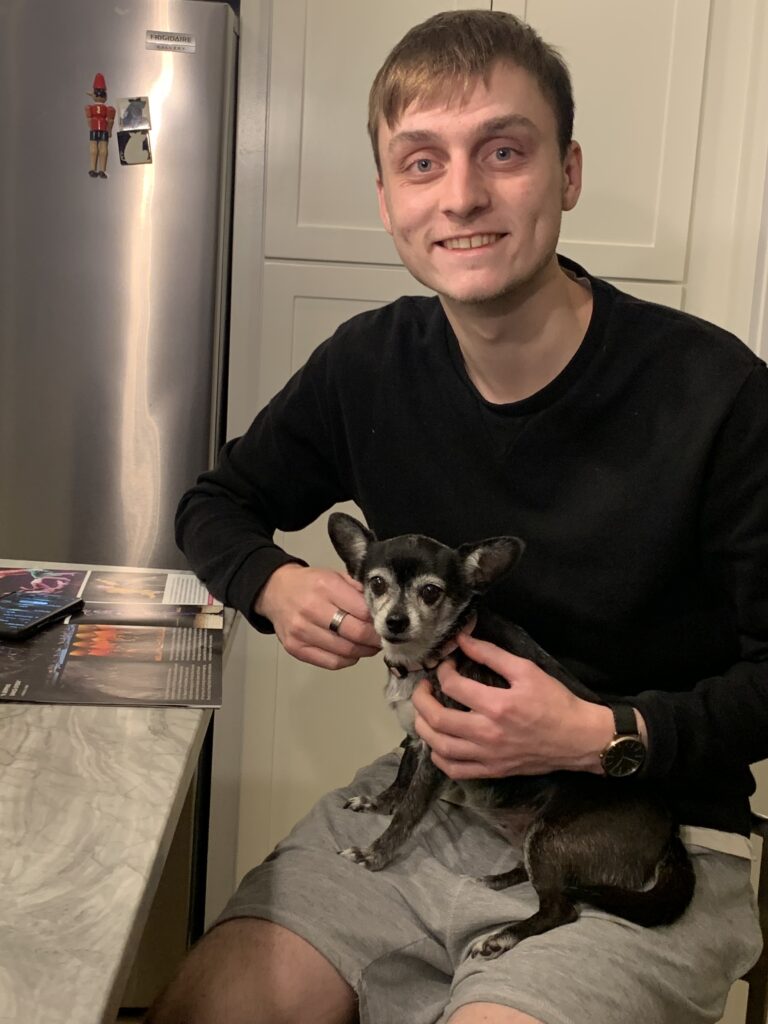 This was Ollie's first trip to Nashville. He and Mitzi were booked to come in April 2020, but we know what happened a few weeks prior to that. By the time travel opened up, Ollie was deep into his Master's. So, after he finished, he came over.
For the first few days we hung out in Nashville; with the dogs at home, eating and drinking locally, and building the electronic drum kit I had been wanting to buy for ages, and Ollie's visit gave me a good excuse to do. We saw some Mozart at The Parthenon, Nashville's own full-sized replica of the Greek one, built for The Tennessee Centennial and International Exposition in 1897, and some bluegrass at The Station Inn, an untouched legacy of the old Nashville in the middle of The Gulch, a cool urban neighbourhood within walking distance of downtown, where I had an apartment when I moved to Nashville.
Then we headed off to Memphis for a few days. I chose Memphis because of its musical heritage. We checked out Sun Studios, where Elvis first recorded, Stax Studios, which produced a bunch of famous soul artists, with a rawer edge than Motown, in the 60's and early 70's. We also went to Graceland, the home of Elvis. It's like a shrine to him, much of the house preserved as it was in the 1970's. The photos above give you a glimpse. I guess today's superstars have multiple, and probably massive, houses dotted around the globe. Elvis, arugeably, the most famous individual of the lot, had one decent sized, super pimped out property in the town he grew up in, into which he moved his parents – they had the downstairs bedroom! That said, he had a couple of private planes and a whole heap of cars. Still pretty modest by the standards of some of today's much lesser well known performers.
We also visited the National Civil Rights Museum, which is situated in the Lorraine Motel, where Martin Luther King was shot. It's fantastic. We also, on Ollie's insistence, visited the Bass Pro pyramid; a bonkers hunting shooting, fishing, eating, hotel madness in a massive glass pyramid (again, picture above), and drove across the river to West Memphis, just to add Arkansas to our list of states visited. It was pretty grim. We stopped and bought some ham and crackers, just to say we had really been there!
Beale Street, the home of the blues, seemed a rather poor imitation of Nashville's Broadway scene, but seeing the Grizzlies beat the Knicks was good, especially as Ollie clearly knows his way around the basketball scene, as was The Arcade diner, where Elvis liked to eat, and the Central Station Hotel, where we stayed, and had a delicious meal.
Hawaii
As I can't leave the country until I get my travel permit, Tiffany and I decided to go to Hawaii, as it felt like leaving the country. We went in November when the weather is still good but it's not so crowded. After speaking to a couple of pals, thanks Gale and Scott, we decided to focus our time on the Big Island and Maui, staying a couple of nights in two locations on each. First, after 10 hours flight time from Nashville to get there (it's a long way away), was the Volcano House in the Volcanoes State Park.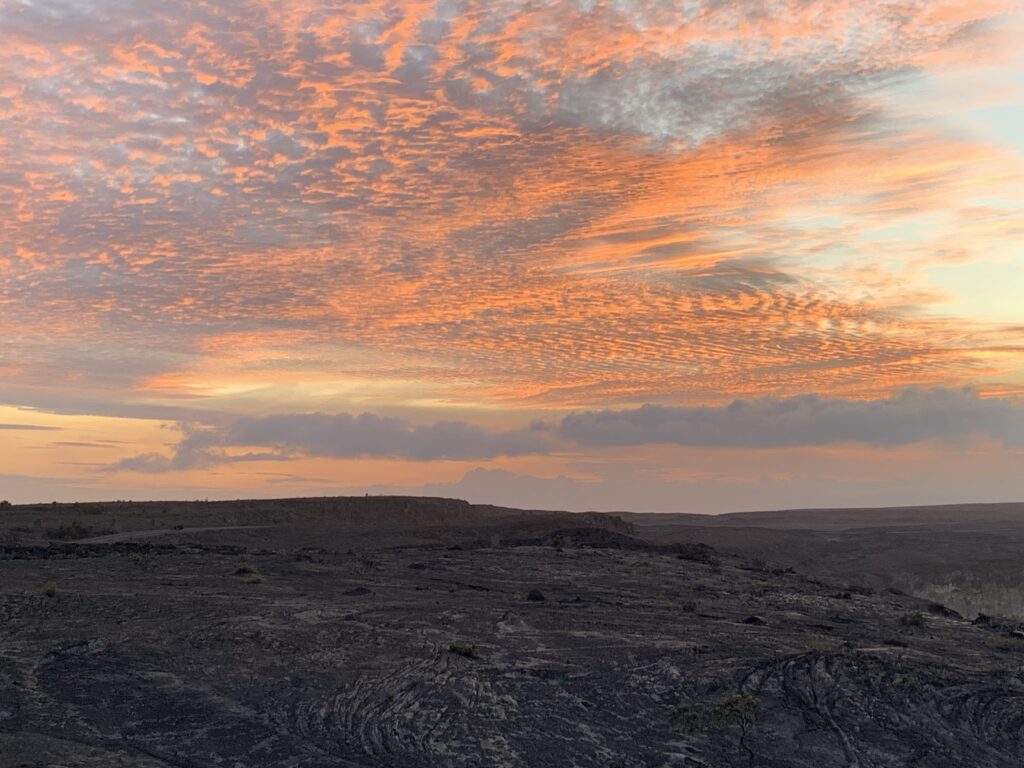 Volcanoes State Park is an amazing place. It has largest active lava lake in the world, a huge caldera (the 2018 eruption created a collapse of the cater rim road and a five hundred car parking lot), at least one wonderful park ranger and guide (thanks John Owens), and wonderful views of bright lava at night. It's also a really good place to get engaged too!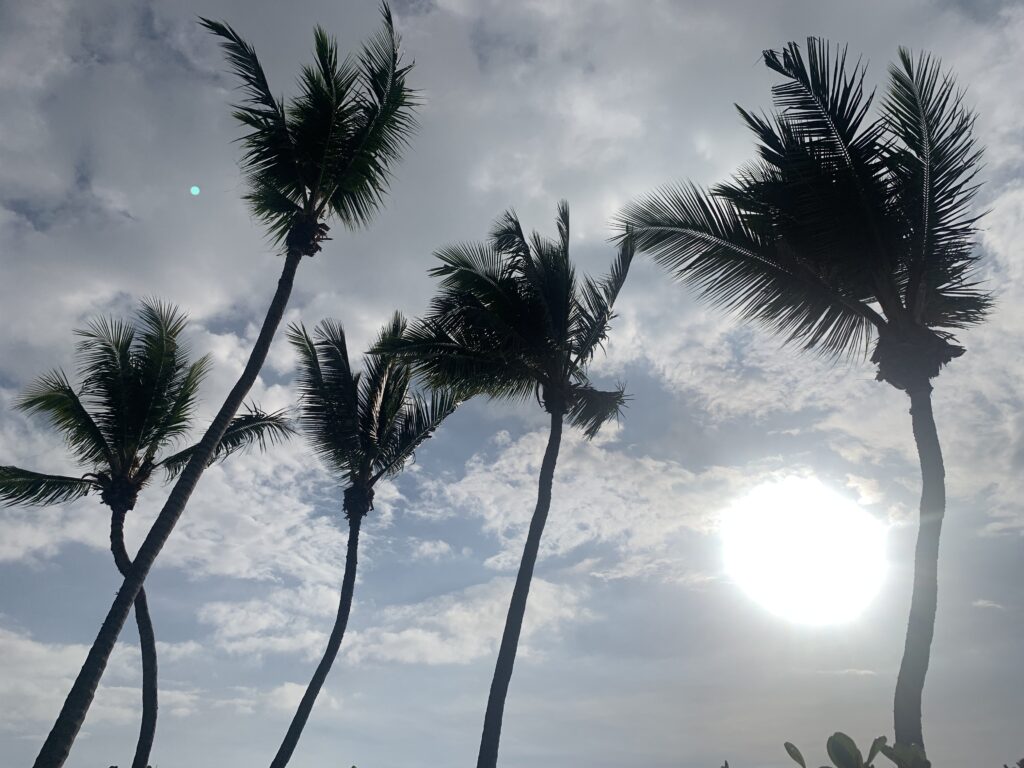 We drove around the island for our second stop. Tiffany found this fabulous Airbnb, Holualoa Sunset Cottage, up in the hills of coffee country, Holualoa. It was so good, we bought food and cooked in, eating outside, overlooking the Pacific. We snorkelled, popped in to see the founder and executive chairman of Revive, Brandon Edwards, who has a place up the road, and chilled a little. Then it was off to Maui.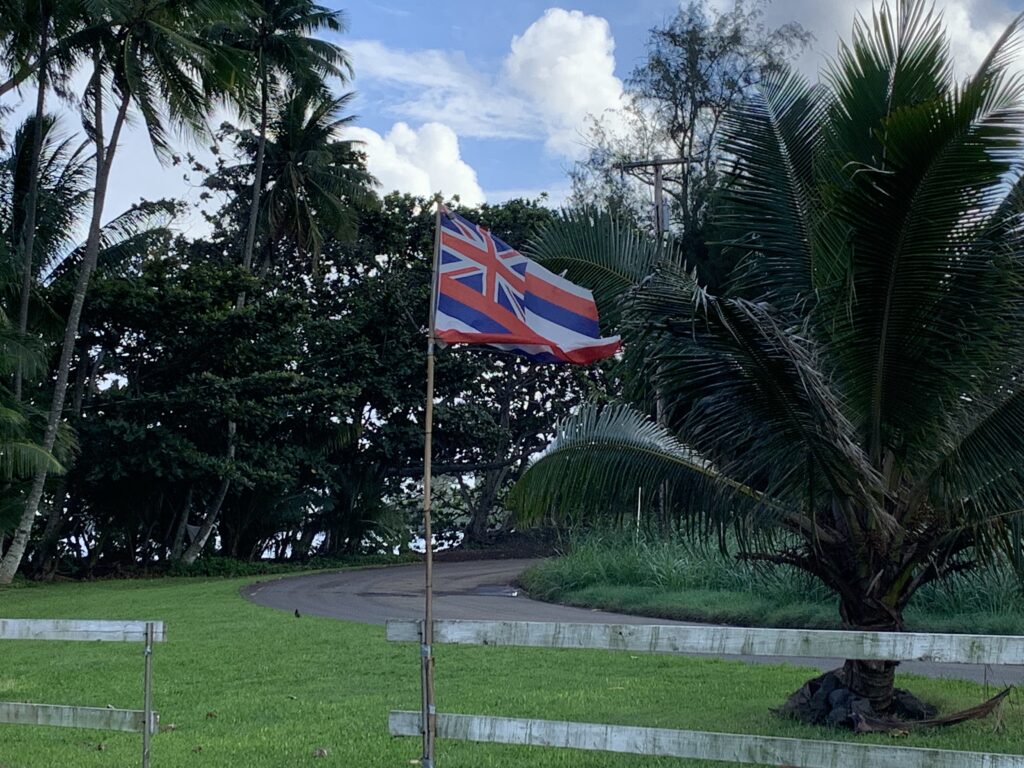 We picked up our rental car, after our $35 flight (the bags cost more than we did at $45) and headed off to Hana. We decided to go there after speaking to a colleague, Gale, who grew up there, and billed it as the "real Hawaii". The drive was amazing; 15 mph for 45 miles of very winding roads. When we first arrived it was hard to really work out what was where, so we resorted to a drink and some food at the very lush Hana Hyatt Resort. But over the next couple of days , we really started to piece it together, and fell in love with Hana. We walked through the bamboo forest to the Waimuko Falls, paddled in the Pacific at Hamoa Beach, and found Charles Lindbergh's grave at the Palapala Ho'omau Congregational Church. Gale's grandfather, a longstanding friend of Lindbergh, is also buried there. The two created a fund to keep the church restored and in good order. That evening we ate at the food trucks that Gale had recommended. Great atmosphere and food. We had found Hana, and would have happily stayed longer.
Our last day was spent in Wailea, a resort, with a good beach and a very good restaurant, Lineage. The road leaving Hana was even more treacherous than the one to get there. Not only winding, but in parts, little more than a gravel track. For three hours.
A really packed eight days, and we felt we had only scratched the surface. There are so many places still to go to in the world, but I feel there is still much more to be seen in Hawaii. I'd go back.
Boys
Boys are all in good shape. They are such a source of pride and joy. In all this lockdown and Green card waiting I miss them the most.
George changed jobs in the Autumn. He is now coding for a subsidiary of Toyota on autonomous driving cars. It's a great job for him. Between leaving Cambridge and starting the the new position, he decided to go to India. While waiting for his visa to arrive, he started to cycle from Land's End to London, but the visa came far quicker than he was expecting so he did a big cycle day across Dartmoor, got the train home, packed (7lb!), and set off for Mumbai the next day. He had a great time, and is now living in Ferntower Road, the London house, with Ollie and his pals, Ollie and Ben. He is really beginning to settle into his London life. It's cool to see.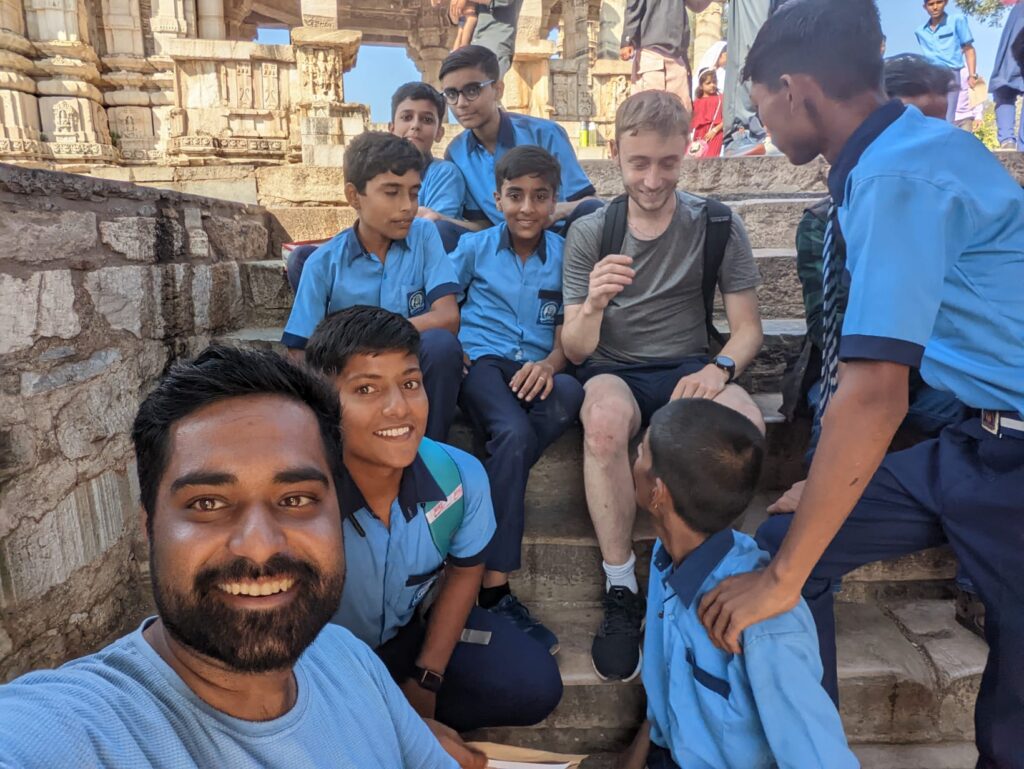 Ollie finished his Master's (with Distinction) in sound production, and moved into Ferntower. It was a bit of a faff to get the tenants out – they refused at first and it got a little nasty and a little legal – but they left at the end of October, and Ollie and his pals, Ollie and Ben – and George – moved in. It's great I can give them a helping hand. It's a great place to live. What's more, they have been happy to help get the house in some order, and get my stuff out of the (overexpensive) storage in St. Albans, where it had been since the start of 2019, and use it, or dump it.
Ollie is now trying to find work in the music biz, ideally as a producer or engineer. It's tough out there. He's also recording and gigging with the band Playing Fields, on Spotify, here. They've been gigging fairly consistently, including playing at the Hope and Anchor in Islington, where I got to see them in July. The next move for them is to get a manager and get out there a bit more.
Charlie seems to be having a ball at Aberystwyth. He's in his second year studying international relations, living in the town, off campus, playing a lot of footie – in fact captaining the second team – and has a lovely girlfriend, Rosie.
In the summer he did an internship at New Scotland Yard. Very cool. He got to do a project that involved a fair amount of interviewing different staff and spending time out on patrol. It'll be interesting to see if he wants to go back around with the marines when he has finished.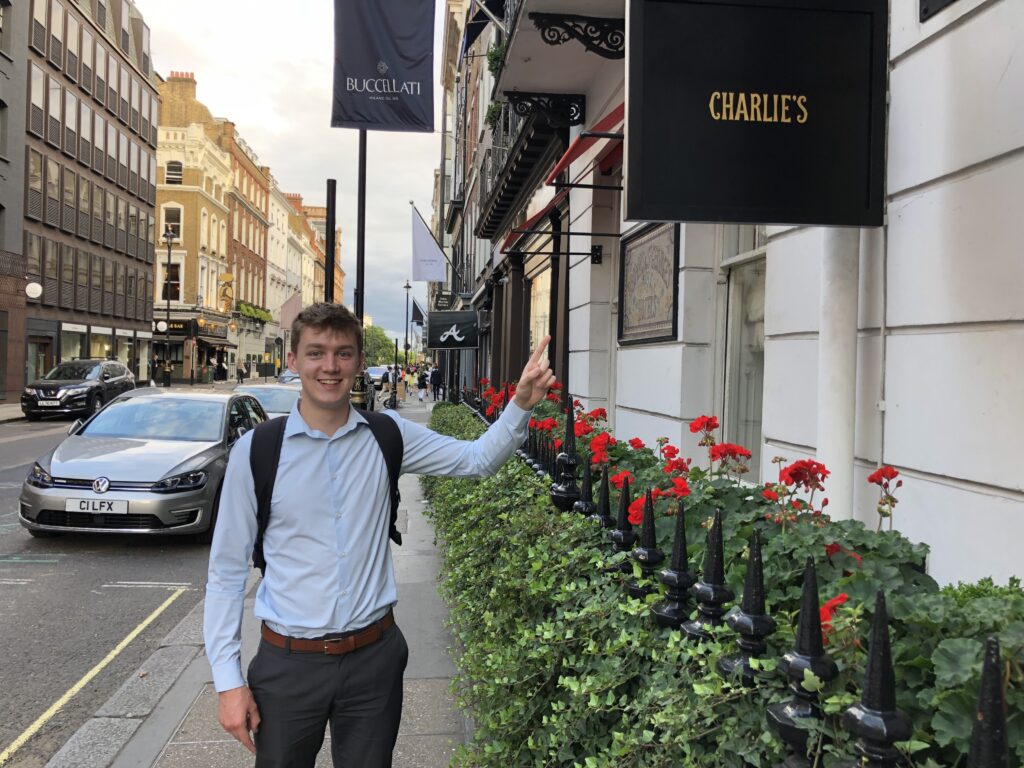 UK Trip
I managed to get back to the UK in July. I had to come in the summer, as there was only a relatively short window of time in the Green card process for me to leave the US, before I had to return to submit the next round of forms.
I returned for four weeks, taking two (separate) weeks of holiday and working remotely for the other two weeks. I brought my bike, in my as yet unused bike bag, and I'm really pleased I did.
Charlie picked me up in the old Fiesta, which was was cool, and just as well, because my luggage was a problem, tricky for one person to take very far. We just squeezed it all in the car. We picked Ollie up and the three of us had lunch at the pub where Ollie had been working during his time in Brentford. We managed to jam Ollie in with everything else and set off to Herts. We dropped Ollie off at Mitzi's, picked George up at the station and went to Anna's for supper, after which my luggage and I stayed.
Taking full advantage of my bike, I cycled to The Peels and then cousin Jane's a couple of days later (Anna drove the luggage over). It was a delight to spend some quality time with Jane, talking about the family, walking the dogs and opening the family treasure trove of papers, which included a lot of previously unknown (to me, at least) detail about my maternal grandfather. He was a photographer for the London Evening Standard, before spending World War Two in the Middle East, setting up dark rooms for the services, including one in Cairo. One evening Matt and Briony came over. It's always a joy to see them. We had a lovely dinner. Big love to Jane and John for having me to stay.
I cycled over to Jill's for lunch. Anna brought the luggage (god bless Anna). We had a lovely time catching up and talking about the kids. Then it was off to Julia's on the train. This time I took the bike and luggage!! Fortunately, there is a direct train from St. Albans to Herne Hill.
It's great staying with Julia. We do very well together. I don't feel guilty when I work US hours into the UK evening because she is often in Coventry in the week. And when she's back we hang out pretty well, though her passing suggestion that we watch Love Island turned into a bit of a curse as I got addicted to it. Never again mind. Thanks again, for all Julia.
I managed to get all boys together for one weekend – quite a feat – and booked an Airbnb in Canterbury. Always the most top fun, we mooched around, visited the cathedral, played footie, ate and drank, did an escape game, and took a bus to Whitstable for the day, hanging out on the beach and eating some really good seafood.
I managed to catch up with pals: some pictured below, like Ade and The Snows (a lucky strike when cycling around Richmond that turned from a quick cuppa to dinner to an impromptu over night stay), and others whose pictures I didn't get; TomWood, Andy, and James.
Having navigated the hottest day on UK record, 19th July – my colleague in Austin, Texas was experiencing a regular 107F that same day btw – I decided to cycle to Winchester, well, Micheldever actually, to see Anne and Simon, who I hadn't seen for ages. It also gave me a good reason to use the bike pack that George gave me when we were planning to cycle the Natchez Trace pre-pandemic and pre-cancer. Getting out of London seemed to take forever , but once I did, it was lovely.
It was so good to see Anne and Simon, their lovely house, and their son, George. And as a bonus, Jackie was there, who I couldn't have seen in 20 years. We had a great evening.
George came down the net day on the train and joined for the Micheldever to Bath leg of the trip, another 70 miles or so. Giles came to meet us at the last hill. The next day we rode to the white horse at Westbury. Giles and George were strong. We got back, showered, changed and bombed off down Ralph Allen Drive at top speed to make the train. We did, just.
The last few days, I was back in Brixton with Julia, watching Love Island, spending as much time as I could with boys. The Wooz and Rosie came to stay. It was the first time I had met her. She is lovely, and the two of them seem a pretty good item. I also managed to get to Felixstowe, thanks to cousin Roger, to see Gillian, Simon, Joan and Richard (I fell asleep on the couch after lunch. I couldn't help it. I hope I didn't snore!), and Bexhill to see Jean, which was lovely as I hadn't seen her for a few years. We had a lovely fish lunch and chatted about her forthcoming trip to Australia – Jean is so active; she's an inspiration.
And in a nice piece of karma, Charlie who had picked me, my bike and my other luggage up four weeks earlier, stayed with Julia and got up very early to help get me, my bike and other luggage to Heathrow via bus and tube because there was a train strike. Honestly, I don't know how I would have managed without him.
I had a super time. I miss the UK, Europe, boys, family and friends very intensely. I couldn't have predicted COVD and cancer and my extended restricted travel. It's been tough, but I hope in 2023, I'll be able to travel more easily.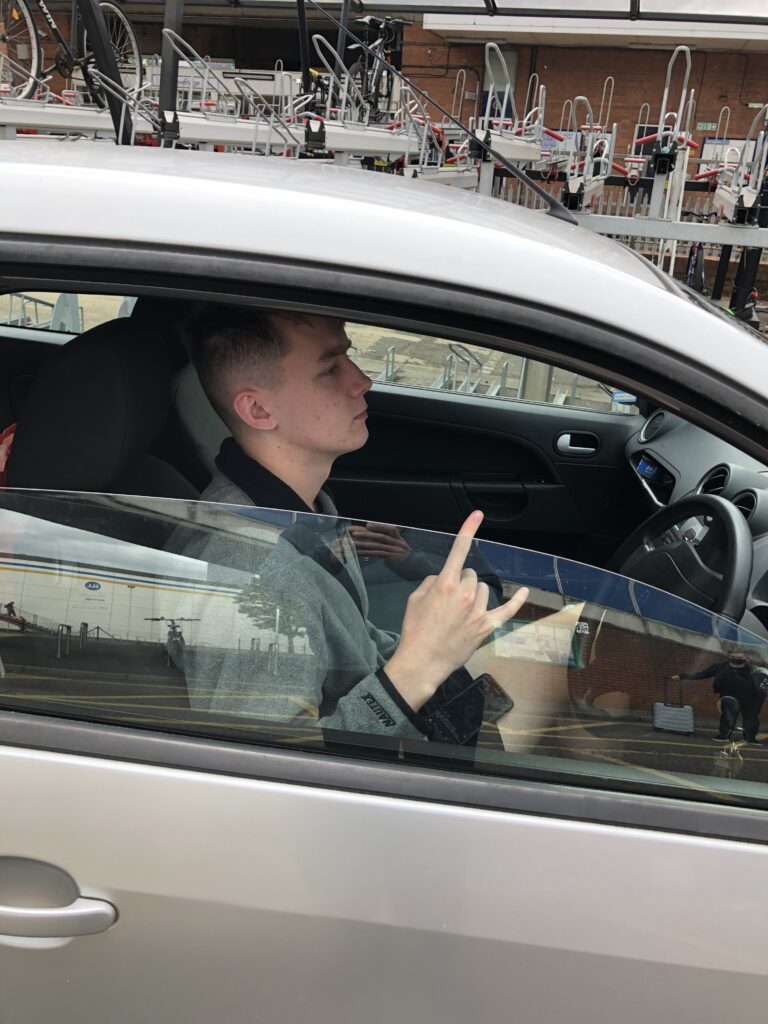 If you've got this far. Well done, and a very merry Christmas!
P.S. For those of you in Nashville, I'm thinking I ought to write about y'all too, but, to be honest, I see more of you, and can convey all this in person. Also, it's getting increasingly hard to write anything because the longer the post gets, the longer the uploading takes. It's about a second a character right now! I have to sign off. See y'all in 2023.