Saturday 25th September.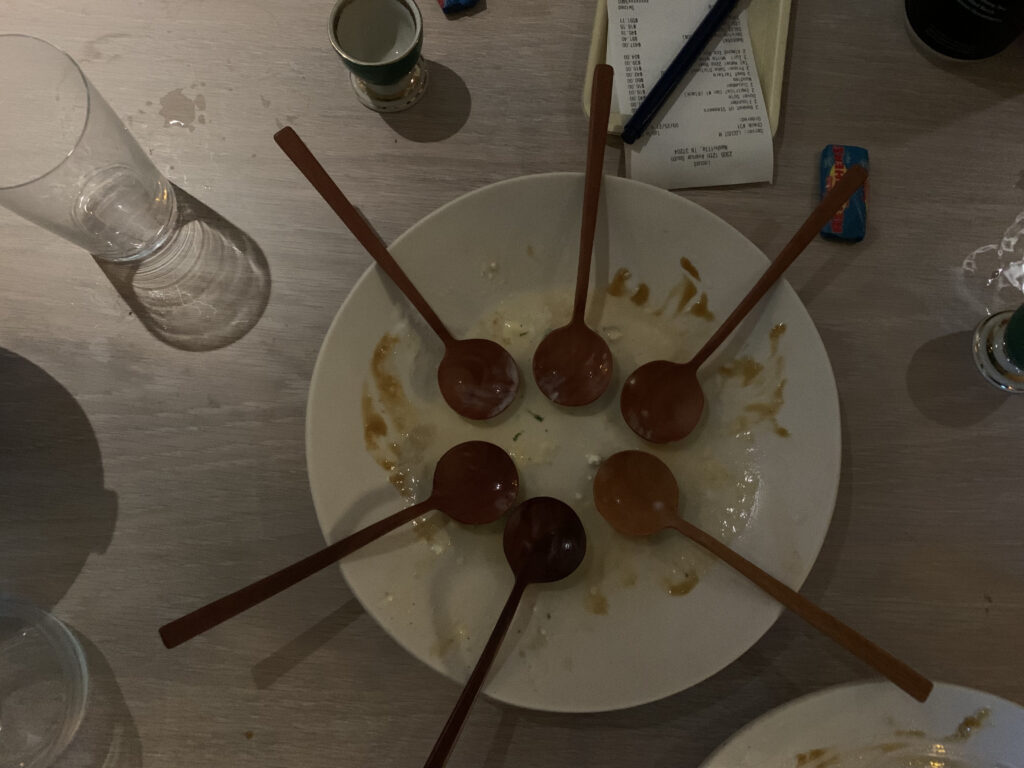 My birthday. 58. Quiet morning. I opened presents from Tiffany; a book on Greek mythology, a fab eau de cologne and very hi-tech pillow. I treated myself to my own birthday present; a clever little $50 Secrid metal "card protector" (wallet) and a $15 money band. Then Tiffany and I had a gentle cycle together exploring our soon to be neighbourhood, Crieve Hall. She had told me we had a date at 5.30pm so I mustn't arrange anything, though she wasn't telling me what.

We just had time, before the 5.30 date, to go look at a chair. I have very few "have to haves" for the new house but a comfy chair is one of them. I kept looking for a nice Scandi designed one, but every search I did kept coming back to the Eames Lounge Chair. It's a classic modern American piece of design. There is one store, in The Gulch, the area of Nashville where I had previously had my rental apartment, called Design Within Reach, which stocks the Eames chair. The name of the store must be some kind of joke; it's a total misnomer. Anyway, if we were quick, we'd have enough time to pop in and try it out. I wanted to, and I wanted Tiffany, who thought the chair was ugly and unhappy about having one in the house, to also try it out, as it might help my cause. There were few we could sit in, and they were as good as I had hoped. Tiffany seemed to like them as well. In the event, we were pushing up to deadline for the evening date, and that helped me even more. Tiffany cracked and said "come on, just get it, just get it". So I did.

The evening date was a lovely. Tiffany had arranged for friends to meet up and surprise me. We went to Locust, a fabulous new restaurant in Nashville. The highlights were the oolong tea cocktail in a can (forget name, sorry), the beef tartare wraps, the sashimi style flounder and a perfectly cooked whole sole. It was all followed by the shaved ice almond milk cake with salted caramel drizzle (pictured above, sort of).
A great time was had by all. I felt, 36 treatments out of my 39 done, tired but loved. And that's been really important on my cancer journey.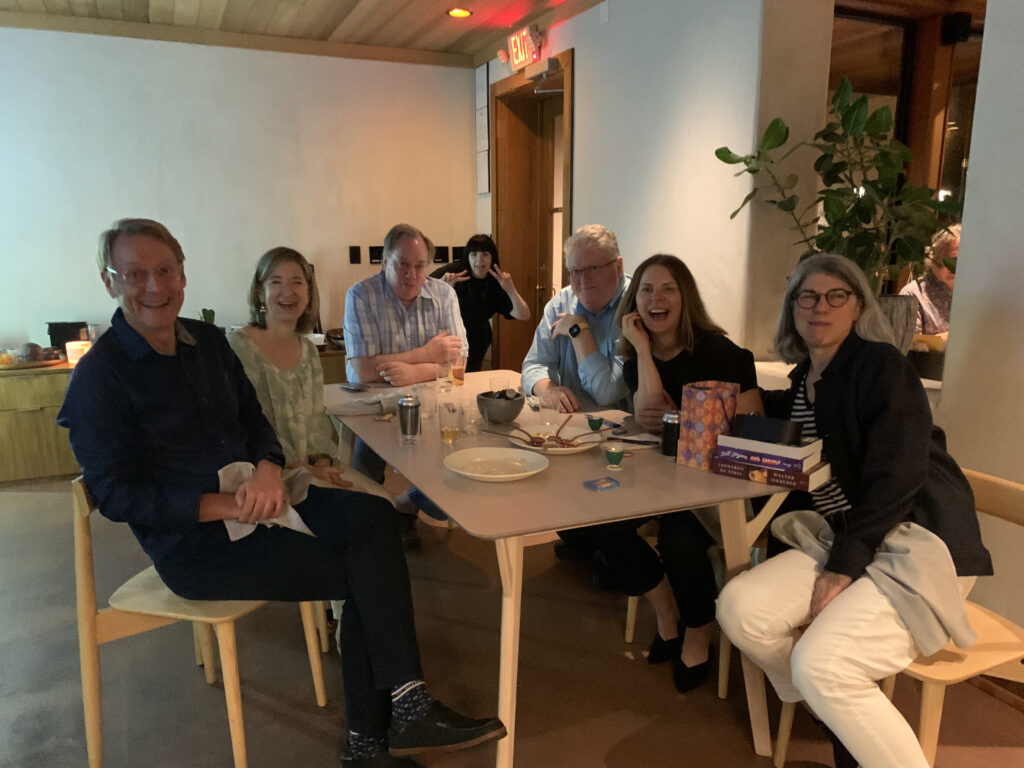 Sunday 26th September
I had decided to ride 70 miles this morning. I had ridden this route a couple of weeks earlier but missed 14 miles because I screwed up the Garmin, so I wanted to do it properly this time, if only to get the stats. It was also some type of personal gesture of defiance in the face of the cancer and the radiation. I did it, at a respectable 17.2 mph too, but I was dead beat at the end, and recovery takes longer. I don't know how much this is due to the hormone therapy, or the radiation or even the hangover, but it's harder. Still fuck it. Fuck the cancer.
In the afternoon, boys and I did some present opening and some Red Alert action. It's one of the few computer games I know. It was very 1990's, with its CDs and whirring old start up noise, and no version for Mac. All boys have played it at some point, and George found a way of us all being able to play online. George is quite the expert at the game, able to combine smart attacks with solid defence. Woozy has a rush "do or die" tactic straight out of the gate and Ollie and I are "turtles" according to George. Apparently, it's some gaming term for players who like to get wait and build their defences patiently before making their attacking move.

We also did presents. Boys have been brilliant during the pandemic. I can't wait to see them. I love them so much. They got me a pair of AirPods, which are brilliant, a fantastic kitchen knife and a gamer's overlit mouse – some kind of ironic joke given my Red Alert ability.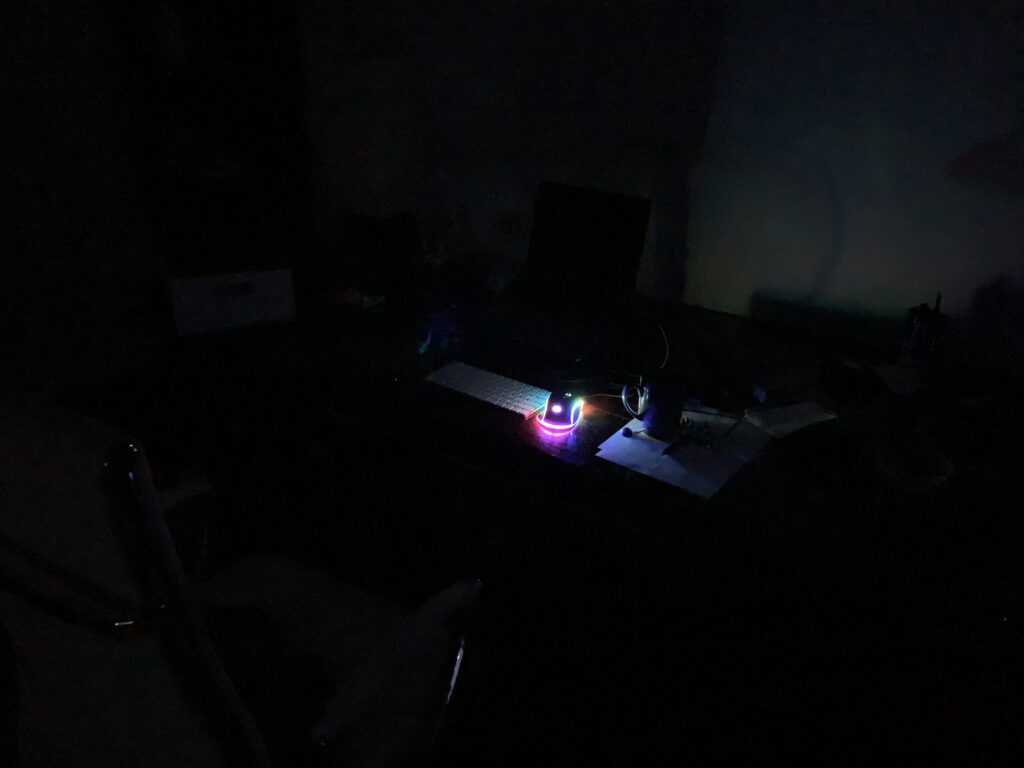 Monday 27th September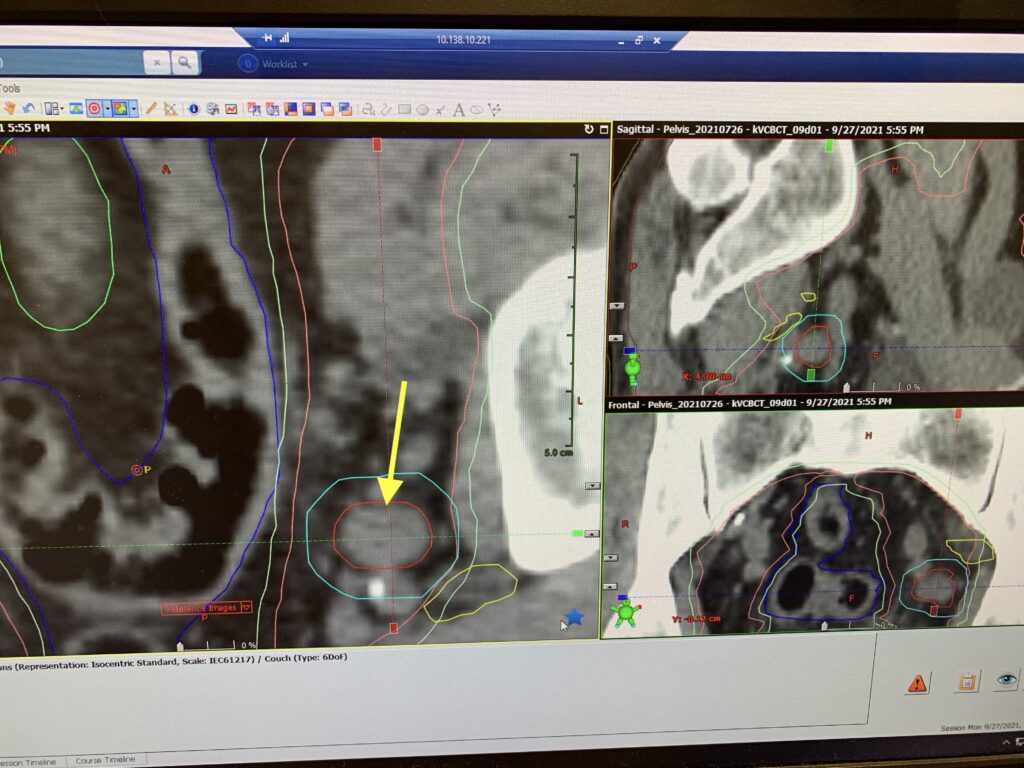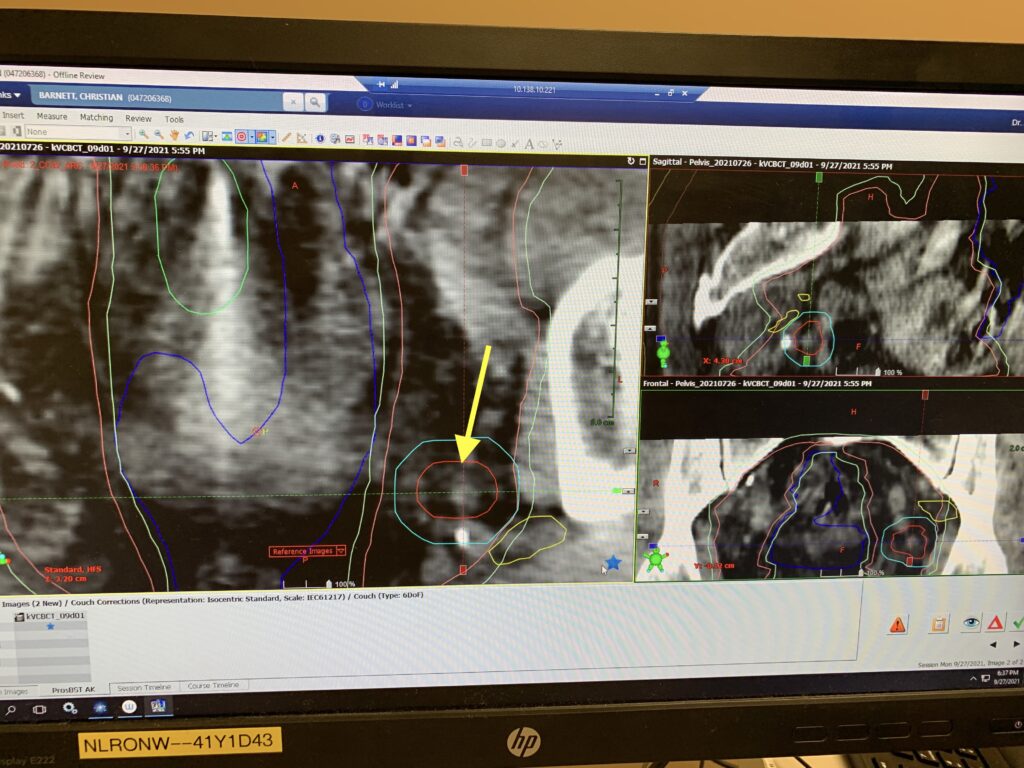 I see Dr. Kirschner every Monday. This the the last time I shall see him during the radiation. I won't see him until February 2022 unless there is a big problem. He's not given to hyperbole nor is overly emotional. He says my response has been "excellent"; that I've dealt with the radiation really well and that the lymph node with the cancer in has shrunk considerably (see pix above). He can't say if the remaining image on the "after" scan is dead lymph node, a functioning lymph node, scar tissue from a lymph node or whether it has any cancer in it or not. But his best guess is that the cancer in the lymph node has been killed. He also thinks that any microscopic cancer cells in my pelvis should have been cleaned out. His biggest worry seems to be that after the ADT (Androgen Deprivation Therapy) has ended, that we discover some cancer cells have found their way outside of the pelvic area and taken route in other areas of my body. He says with some patients you end up in a game of chase the cancer as it manifests in different parts of the body, it's zapped, then it manifests somewhere else. This worries me. However, that's some way down the line, and the general feeling I'm left with is that I did as well as could be expected. I hug Dr. Kirschner and shake the hand of his resident. I like him a lot. In part because he's doing his best to save my life and in part because I just like him. I think though, he was a little shocked when I hugged him.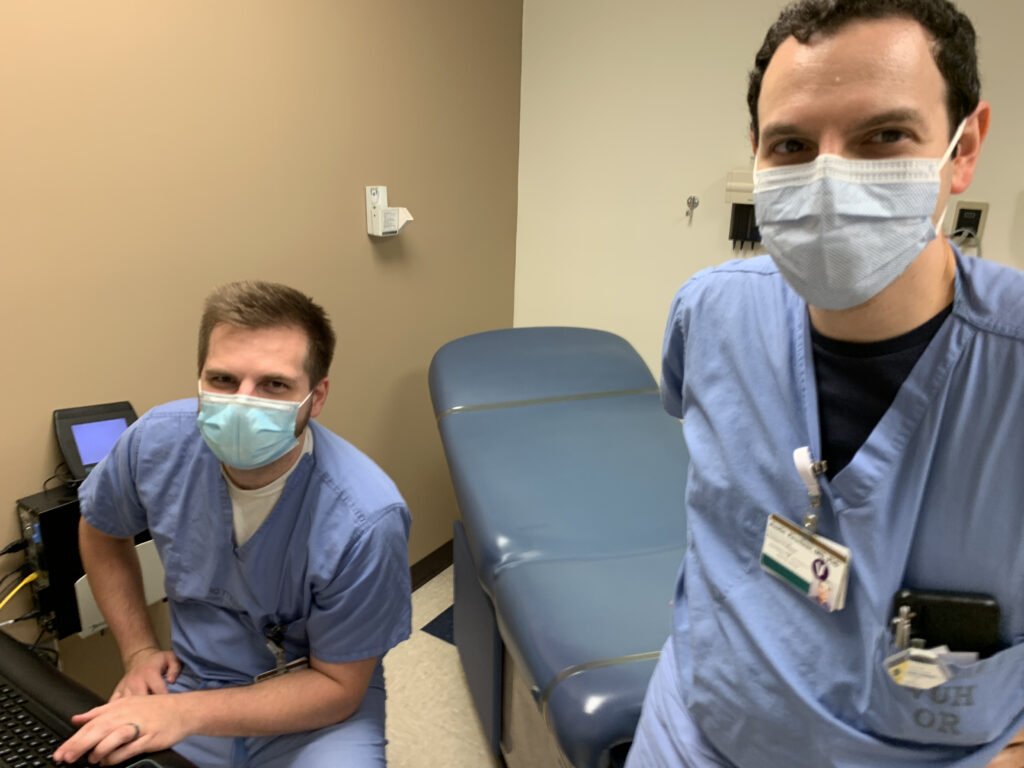 Tuesday 28th September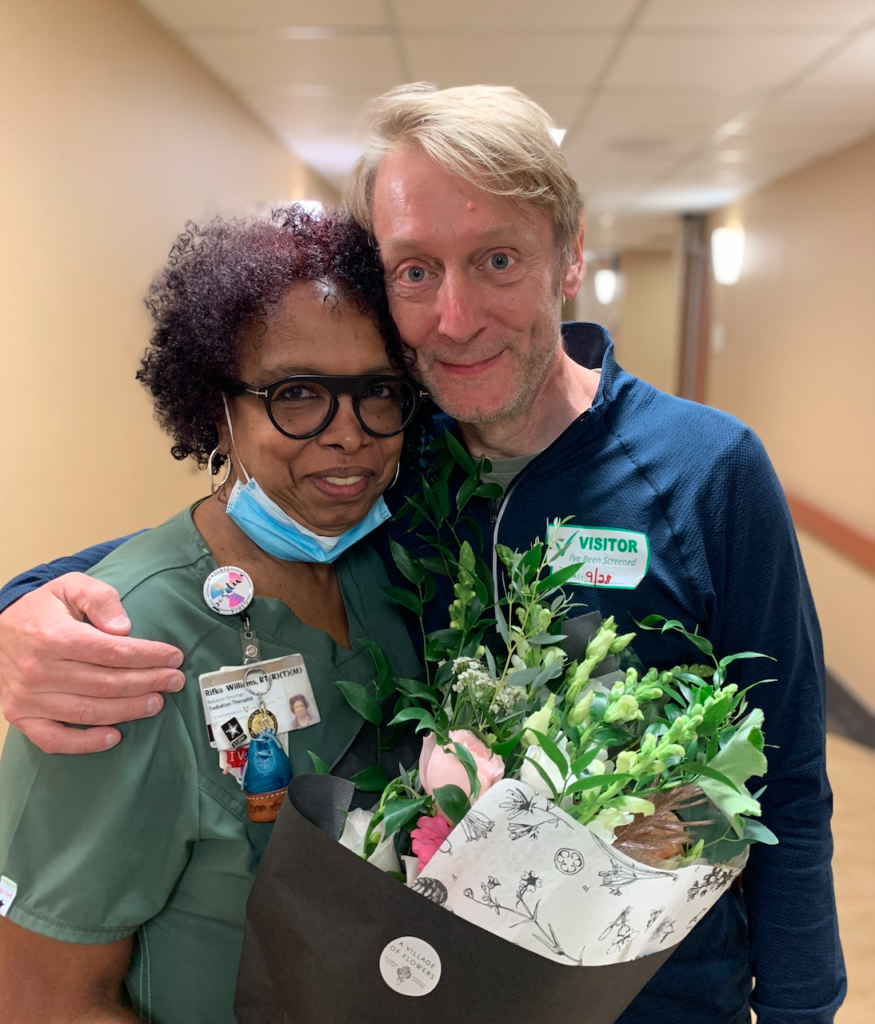 Tuesday was the day I came bearing gifts. I desperately wanted to say "goodbye" and "thank you" to Rifka in person, and she wasn't going to be around on Wednesday, my last day, as it was her birthday. So as well as her gifts, I thought I would do everyones on the same day. It also meant that Wednesday could be focused on sneaking in friends and colleagues who wanted to witness the bell ringing.

I bought three plants (one for Gigi on the check-in desk, one for the staff in the office, and one for the radiologists to brighten up the waiting room a little), four bunches of flowers (for Jessie, Alyssa, Mark, and a spare for whoever was there; it was Anthony that day), cookies and cupcakes for everyone and a card. Rifka got a specially made bouquet (of course she did) and a birthday card for tomorrow. It became very emotional.

A few words on Rifka. We first got friendly when she saw me on using my Mac Air in the waiting room. She come over and said that she had one too but couldn't get it to work (aka get online). I persuaded her to bring her Mac in and I showed her what to do. From then on we were firm friends; making fun of each other, accents, my treatment, song choices over the speaker system in the treatment room, my underpants, my bladder, anything really. She brought a sense of levity without ever being anything than totally professional. But there was also some pretty raw emotion too. One day I asked her about the progress of another patient and she started to tear up. I instinctively hugged her and she held my hand, tightly. I never heard how the patient was doing but Rifka's reaction told me everything I needed to know. I've recounted the story in a little more detail here.
After my treatment and lots of hugging and gift-giving, Rifka walked me to the elevator. I asked her if she ever felt exhausted after giving and giving and giving all day long. She said "no". She told me this was the job she was born to do. Her mother died of breast cancer, aged 53 and this was the impetus for Rifka, who started her college course only days before her mother passed, to do this job. It was her calling. She's a remarkable woman.
Wednesday 29th September
After 39 treatments, apparently a pretty hefty number, one per day every weekday, I was done. The last day ritual is to ring the bell outside the office. I was treated my Alyssa, Jessie and Mark, three of my favourites, after Rifka of course. I was happy to have three people I had a good relationship on my last day. We played "Ring my bell" by Anita Ward, the original and a remix, over the speaker in the treatment room, loud. Then we went to the bell.
On Monday, Jenna, one of the nurses, was checking my vitals before I met Dr. Kirschner and asked if anyone was coming to ring the bell with me. I replied, "yes, a handful, eight to ten people". She looked a little agog and told me that one or two was acceptable, but this number was not allowed. So we had to get sneaky. Rifka had given me some inside advice. I issued some very careful instructions about how to get past Gigi at the check-in desk and hoped that the little orchid I had given her yesterday would help. In the event Tiffany, Donna, Lauryn, Ashley, Riley, Jared, and Ryan made the ringing of the bell and a few more who made the post bell ringing drinks at Flatiron. By 8 pm I was shattered. I barely remember the take out pizza and had no recollection of getting into bed.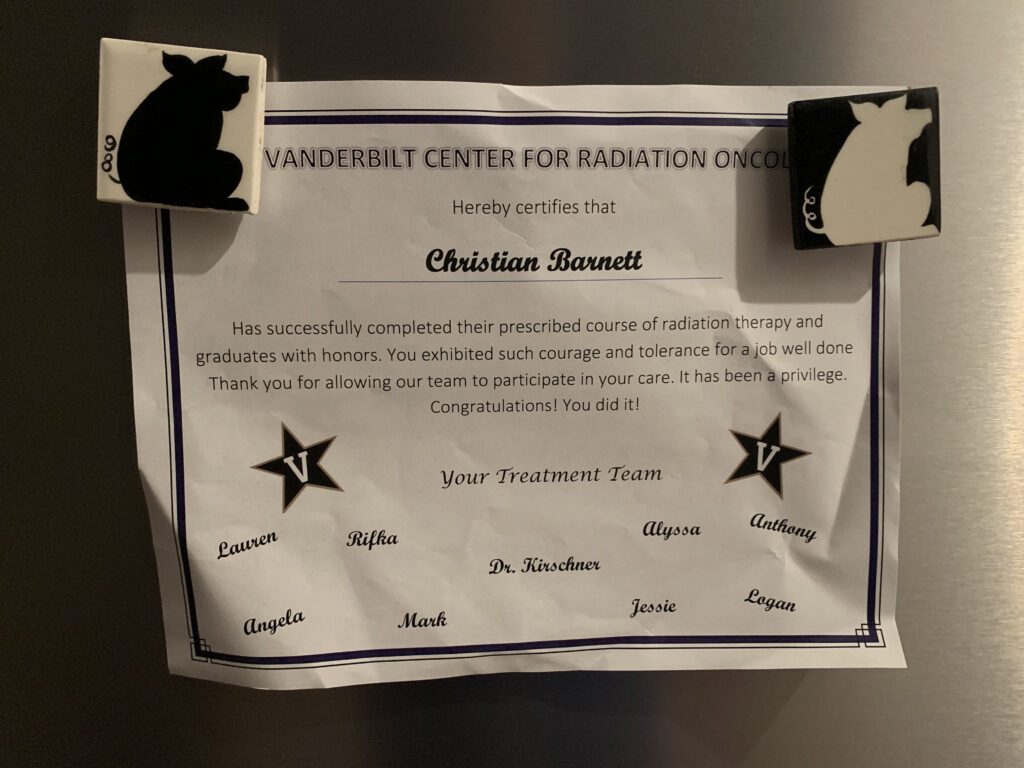 Thursday 30th September
For so long I haven't been able to get back to the UK for a visa interview at the American consulate in London, and without an interview I can't get the visa stamped in my passport and without the visa stamped in my passport, I can't get back into the USA. I had been planning for June 2020 but the pandemic combined with a toxic Trump policy around visas (the lawyer dealing with my case advised waiting until Trump was out of office) plus the American consulate suddenly cancelling ALL visa interviews in the fall and then need to stay in Nashville for the radiation treatment all meant that I haven't been able to get the interview. Until today. Yippee!
My lawyer at IPG, Allison, who has been wonderful all through this ordeal, told me she had been able to secure an emergency interview December 13th! In theory I might have been able to get one sooner after the radiation finished but Tiffany and I had a short cycle trip to Death Valley planned (booked before the radiation) which we really wanted to do and it made sense to make the trip back and extend it over Christmas and New Year, so mid-December became the target date. I had trouble going into the system and rescheduling my appointment from March 2022 – yes the earliest I could get otherwise. But Allison managed to do it. I was overjoyed. What a week!
. . . . . . . . . .
P.S. After a couple of days it became obvious that I wasn't able to get my DS 160. This is mandatory and I need to bring it to the interview. EXTREME PANIC! Neither Allison or I could find it, nor could the US Visa services, inspite of there being a confirmation and interview instructions and an interview attached to the application. The best the US Visa services could do, after 5 hours of hold time between Allison and myself, was to suggest I download and use Microsoft Internet Explorer 7 and a Windows machine!
We gave up. I had to make another application which I did in a record four hours (I'm getting well practiced now), and call the US Visa services in London to see if I could use the same appointment with a new application. I prepared myself for a long wait, but pick up was within thirty seconds! Amazing. I couldn't keep the same appointment, but by taking a risk with the scheduling software I was able to cancel and get the same slot. Amazing. Hopefully now, after almost two years of waiting, I'm able to get this part of my (new) life sorted. Fingers crossed!